Easily Block Unwanted Emails in Gmail
Share blocks across accounts, bounce back emails, and more. Take back control of your inbox.
No credit card required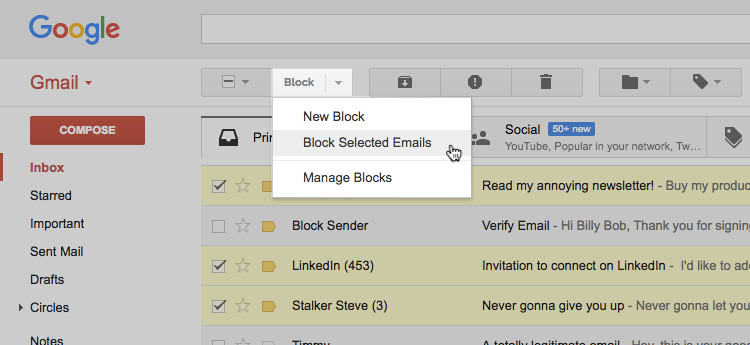 You're in good company.

Block Sender is trusted by employees that work at:
Testimonials
We have helped thousands protect their inboxes
Seamless Integration
All of Your Accounts
Link multiple Gmail accounts, share blocks, and manage all with ease.
Multiple Accounts, Block Once.

Stop wasting time trying to manage filters on multiple email accounts. Create blocks for all your email accounts in one place.

Full Control.

Pause and resume blocking on specific blocks or entire accounts in just a few clicks.

No Limits.

Link any number of accounts, whether it's work or personal (charges may apply), and block unlimited emails.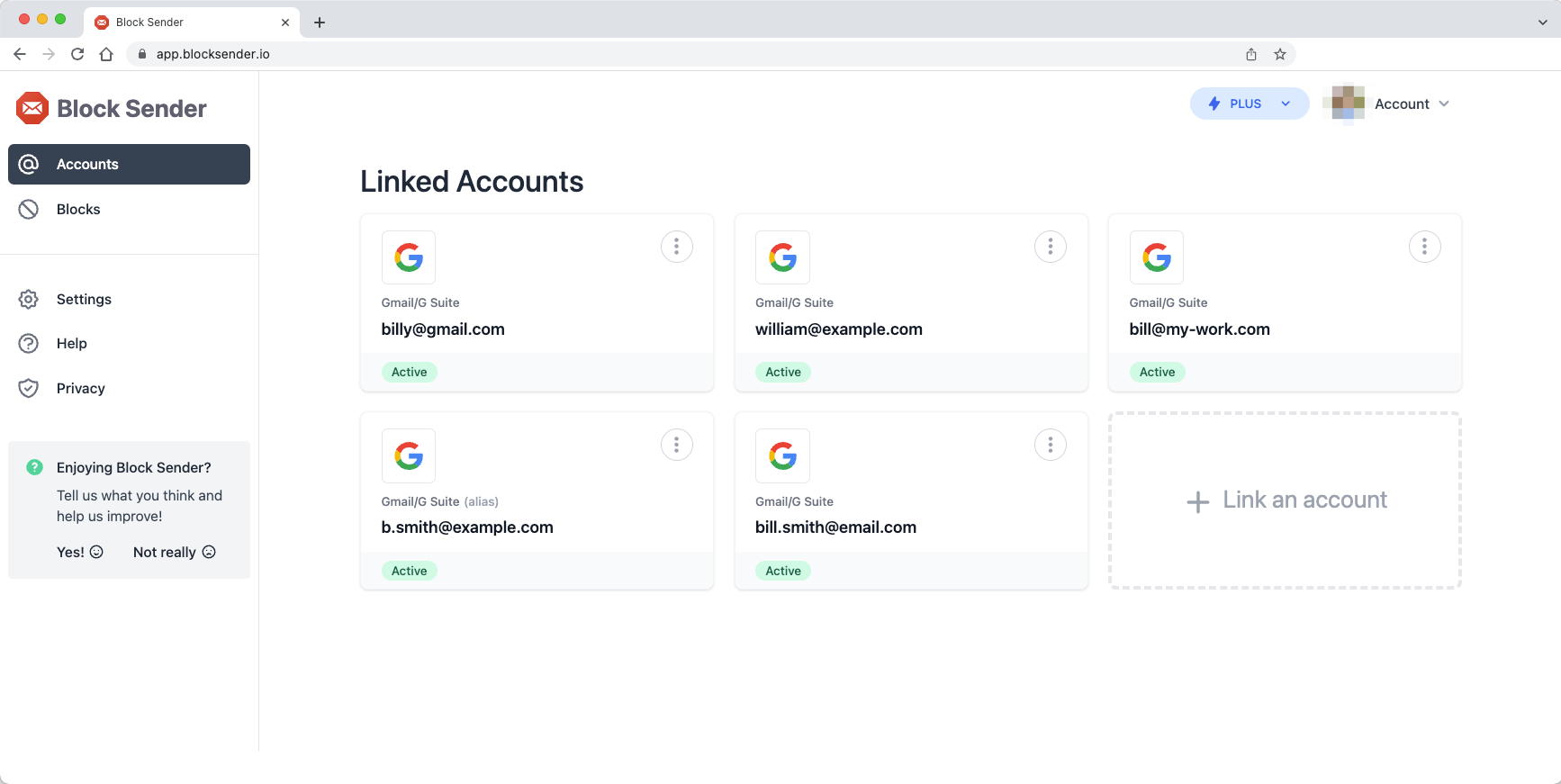 Flexible Blocking
Control at Your Fingertips
Share blocks between your accounts and out-smart the spammers with a wide range of email filters.
Email Addresses.

Someone bothering you? Simply block their address discretely with just a few clicks.

Websites/Domains.

Newsletters you can't unsubscribe from? Stop their messages without unsubscribing.

Keywords.

Not a fan of men's health products? Filter out emails with commonly used spam words.

Subjects.

Gmail spam filters don't work on that crazy ex of yours, but Block Sender does.

Phrases.

Tired of "Nigerian prince" schemes? Block scammers from your inbox, no matter how much "money" they promise you.

Advanced Features.

Do more with your blocks by creating blocking rules with wildcards (i.e. info@*.com) for even better coverage.
Canned responses
Bounce Back to Sender
Fool the sender in to thinking your address doesn't exist.
Mailbox Not Found.

Don't change your email just to stop one person from emailing you. Bounce back their messages with our authentic-looking error messages.

Responsible Bounce-Backs.

We only send bounce-backs to verified senders to help prevent creating more email spam.

Fake Bounce, Real Results.

The bounce-backs may be fake, but to laymans they look like the real thing.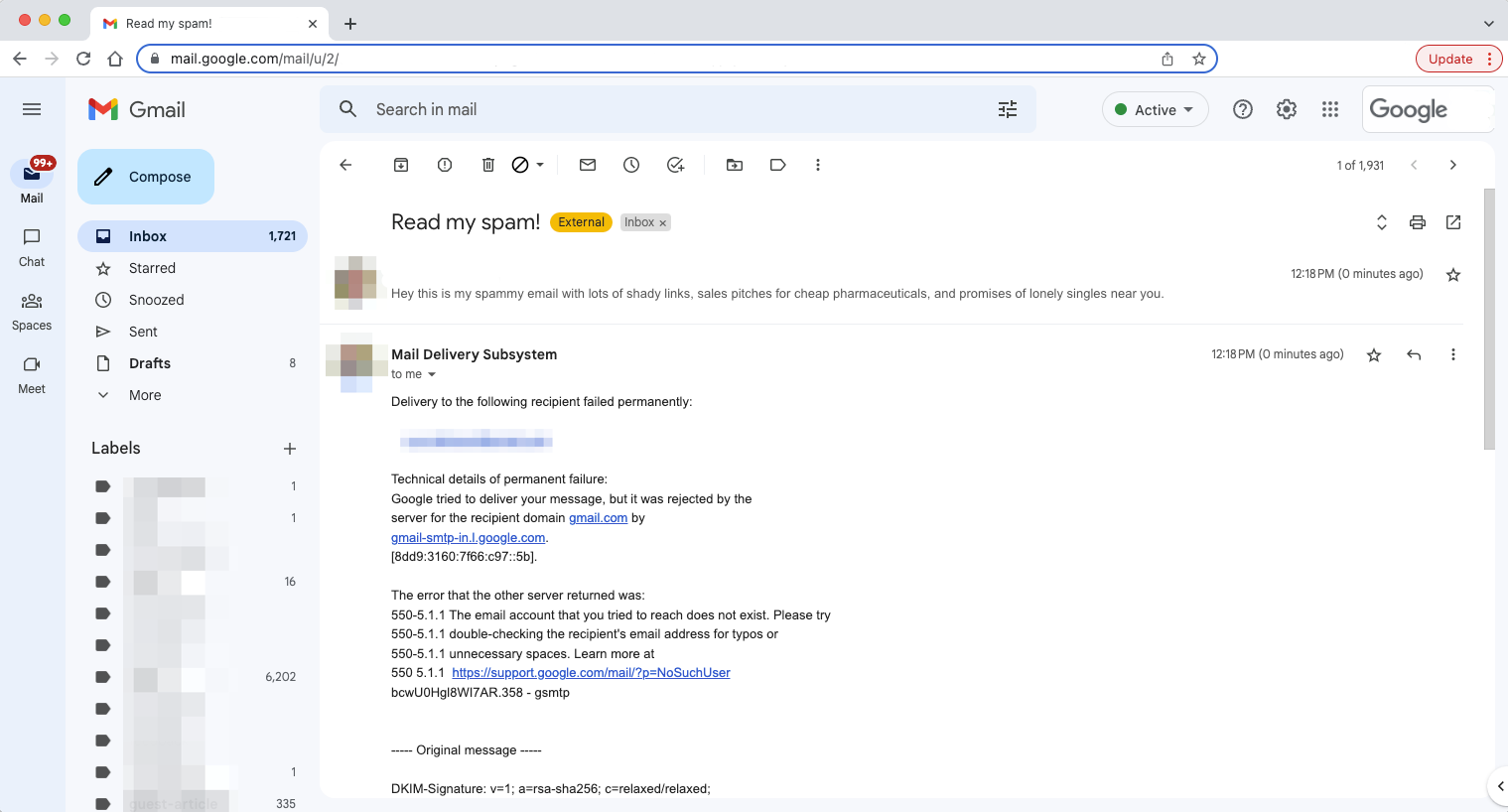 Your Data, Our Priority
We prioritize the privacy and security of your data by conducting routine audits and adhere to best practices for your peace of mind.
Privacy First.

Your email data will never be sold or shared with anyone, and it's never even stored on our servers. It's your data, and we will keep it that way.

Approved by Google.

Our servers, networks, and processes are routinely audited by a Google-appointed security firm to verify the security of your account.

Sustainable Business.

By charging for certain plans, we don't need to rely on selling your data to stay in business. We're incentivized to look out for your best interests.
Pricing
Plans for all use-cases and budgets
Choose an affordable plan that's packed with features for cleaning up your inbox and making your life stress-free.
Free
Basic blocking for free, forever.
$0/month
Sign up
1 Linked Email
25 Blocking Rules
No Bounce-Backs
Limited Block Types
Limited Support
Plus
Block and bounce-back emails from your inbox.
$5/month
Sign up
Free features and...
500 Blocking Rules
Bounce-Back Emails
Advanced Block Types
Email Support
Multiple accounts, advanced features, and more!
$9/month
Sign up
Plus features and...
3 Linked Emails
1,000 Blocking Rules
Advanced Block Types
Priority Support
Frequently asked questions
Can't find the answer you're looking for? Reach out to our customer support team.
Is there a free version of Block Sender?

Yes! We offer a free tier that allows you to link one email account and create up to 25 blocking rules. You can upgrade to a paid plan at any time to unlock more features.

How secure is Block Sender?

Security is a top priority for us. We work with a 3rd party assessor to regularly audit our security measures, ensuring that we comply with industry best practices and regulations.

What information does Block Sender have access to?

Block Sender requires access to your email to perform its functions. We only access the minimum amount of data possible, and do not store any of your data. We will never share or sell your information.

Do I have to use the browser extension for Block Sender to work?

No. The browser extension is there to make it easier for you to block emails directly from your inbox. You can also block emails from the dashboard.

Can I share my block settings with other email accounts?

Yes! You can share your blocks with other email accounts that you link to Block Sender.
Sign up for your free account
No credit card required, upgrade or downgrade at any time.